Lisa Read experiences the
Esri Partner Conference
for the first time

In March, Operations Manager Lisa Read attended her first Esri Partner Conference in Palm Springs, Florida. Joining her at the conference were Harley Prowse, Tony Elson, and Shane Pienaar.
The Esri Partner Conference is a key event on the calendar each year as it is an opportunity to connect with Esri specialists from around the world and attend presentations on specialist technical topics.
For Lisa, her primary focus at the conference was Esri's Web AppBuilder products. Other key areas were gaining insights on how others had adapted their Project Management approach from a Waterfall to an Agile methodology, automated testing, implementation patterns and trends plus Portal for ArcGIS including replication.
It was an excellent chance for her to learn from the sessions and pick the brains of the best on how they had overcome technical challenges they had faced.
"Having this freedom of choice, and being able to connect with the right people, enhanced my knowledge on the software and products that I am currently working with, and would be useful for upcoming projects in GBS' pipeline. This along with learning more about the Esri platform and the roadmap ahead, has enabled me to add value to the projects I have worked on since attending," says Lisa.
"I got to really focus on 'being present' at the conference. I had a trusted team back in the GBS office that could keep things running operationally in my absence. This meant I could focus solely on learning. It was great having Shane there as I had a ton of questions after each session!"
Being part of the GBS team for over 5 years, Lisa had heard a lot about the conference and she was keen to find out what all the hype was about.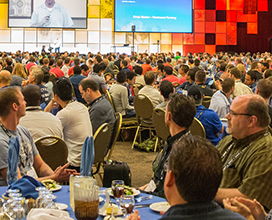 "The number of people there was mind blowing. I had heard that a lot attend, but it was still over-whelming to be surrounded by so many like-minded people in one place."
The kiwi accent drew interest from other delegates who were keen to connect with the GBS team, Lisa says. "As always, it was good to be able to talk to people in the same industry, but it was elevated at this conference simply due the volume of people there."
Lisa thought the conference was incredibly well run from the agenda and location to the logistics and catering. "The catering was amazing, and it was great to have cans of coke on tap as needed for middle of the day pick-me- ups!"
There was also a lighter side of the conference and a chance to network over super-sized margaritas. The last night was a carnival and dodgeball tournament with the Dodge-blacks putting in a mean effort against the Yanks!
For Lisa it was well worth attending. "I got a huge amount of benefit from the dev sessions. I was worried they were all going to be code based, and while some of it was, I was pleasantly surprised at how much I understood and got out of it."
"It was a great opportunity for my own personal development and it has also taken my Esri knowledge to the next level. That knowledge has already been applied to current projects and I know it will be invaluable to the projects I will be working on in the future."