This month, we celebrate the first birthday of Waahi, our web-based geospatial viewer solution which is based on Esri's Web AppBuilder.
As early as July 2016, a few like-minded colleagues and the GBS directors got together to identify a gap in the local government market where clients needed an easy mechanism to share, access and visualise their geospatial information. Many clients were existing users of the Esri platform so it made sense to us that our solution leveraged their existing investment: from a financial perspective improving their Return on Investment; from an infrastructure perspective utilising their existing environments and technology frameworks; and from a resource perspective providing an opportunity for clients to leverage their existing knowledge and training.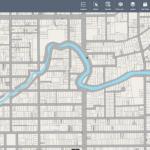 It wasn't until mid-2017 that we really started to pull things together to deliver an easy-to-use lightweight viewer for the local government sector in NZ, Australia and S.E. Asia. However, Waahi certainly can move beyond local government as we already have this product deployed in the utility space also.
We wanted a solution that provided an intuitive platform for accessing and visualising data, with rich design and pre-configured workflows, yet configurable by its admin users to suit the exact requirements of their business. Ultimately, we were looking to create a smart and powerful solution for sharing geospatial information.
We started by drawing on our years of experience with clients across various industries, pulling together examples of common workflows, practices, questions and processes. When we knew that Esri Web AppBuilder and the Gallery would form key components of the solution, we built out the Waahi theme and widgets and wrapped it all up into an implementation package.
We want to ensure that organisations who use the Viewer are well versed with its capabilities, and we provide new releases and updates alongside the core Esri Web AppBuilder releases to ensure that Waahi is always integrated and fully tested against the current Esri platform. In general, Waahi is enhanced through bi-annual product releases and more frequent ad-hoc releases, as required by clients.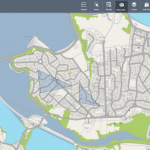 Waahi is being offered as a free solution to local government in New Zealand excluding any costs for implementation, support and customisation. This is to ensure that there are competitive offerings in the NZ market within the Esri platform. After implementation, Waahi has an annual subscription fee which enables access to regular upgrades, maintenance and support. This annual fee is also waived for New Zealand local government.
Waahi continues to make strides as a one-stop geospatial solution for councils and utility companies across New Zealand and especially in Australia. We are looking forward to continuing to enhance the Waahi solution in conjunction with clients and our product strategy.
View the Waahi website here where you can find detailed information on the solution, integrations, resources, technical requirements and new release information. There is also a demo section so that you can see for yourself how Waahi looks and works.
Contact us to learn more on how Waahi can help your business share, access, and visualise its geospatial information.