GBS' CTO and GIS Architect Shane Pienaar recently provided some pro bono Esri technical assistance to Glenfern Sanctuary on Great Barrier Island, Auckland. It's a meaningful environmental project and a great use of the Esri technology.
With a network of over 800 rat traps along 40kms of trap lines, Glenfern Sanctuary is responsible for the pest management of the Kotuku Peninsula. Adopting a trap helps the sanctuary to fund the costs involved with maintaining the network of traps.
In conjunction with the Esri techinical assistance, GBS also adopted two traps; GBS Rat Trap 1 (G08_210) and GBS Rat Trap 2 (G08_260). These traps will help to keep rat numbers down in order to protect the biodiversity and threatened species of the area, and will assist Glenfern Sanctuary in the responsibility of pest management for the Kotuku Peninsula.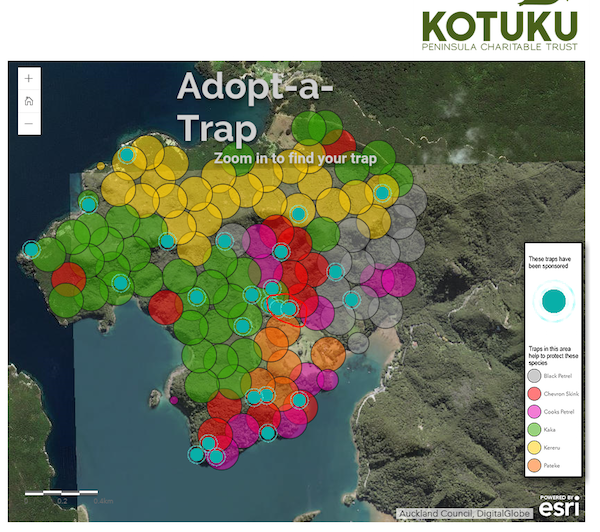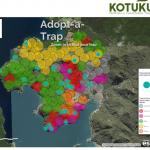 Though perhaps at first glance not the most glamorous of gifts, the sanctuary mentions that adopting a rat trap in their network is a popular gift idea for those that have a passion for conservation. And importantly, it is a great way to be involved with preserving endangered species.
If you would like to adopt a trap, click through to the Glenfern Sanctuary website and to their interactive map. The animated blue circles indicate traps that have already been adopted (you can click on these to see their adopted names), and the other coloured circles represent trap areas. By zooming in and out around the different coloured circles you will get a feel for the number of traps in each area and the species they protect.
The GBS rat traps are centred in the area, protecting a cluster of Chevron Skink, Cooks Petrel, Kaka and Pateke.