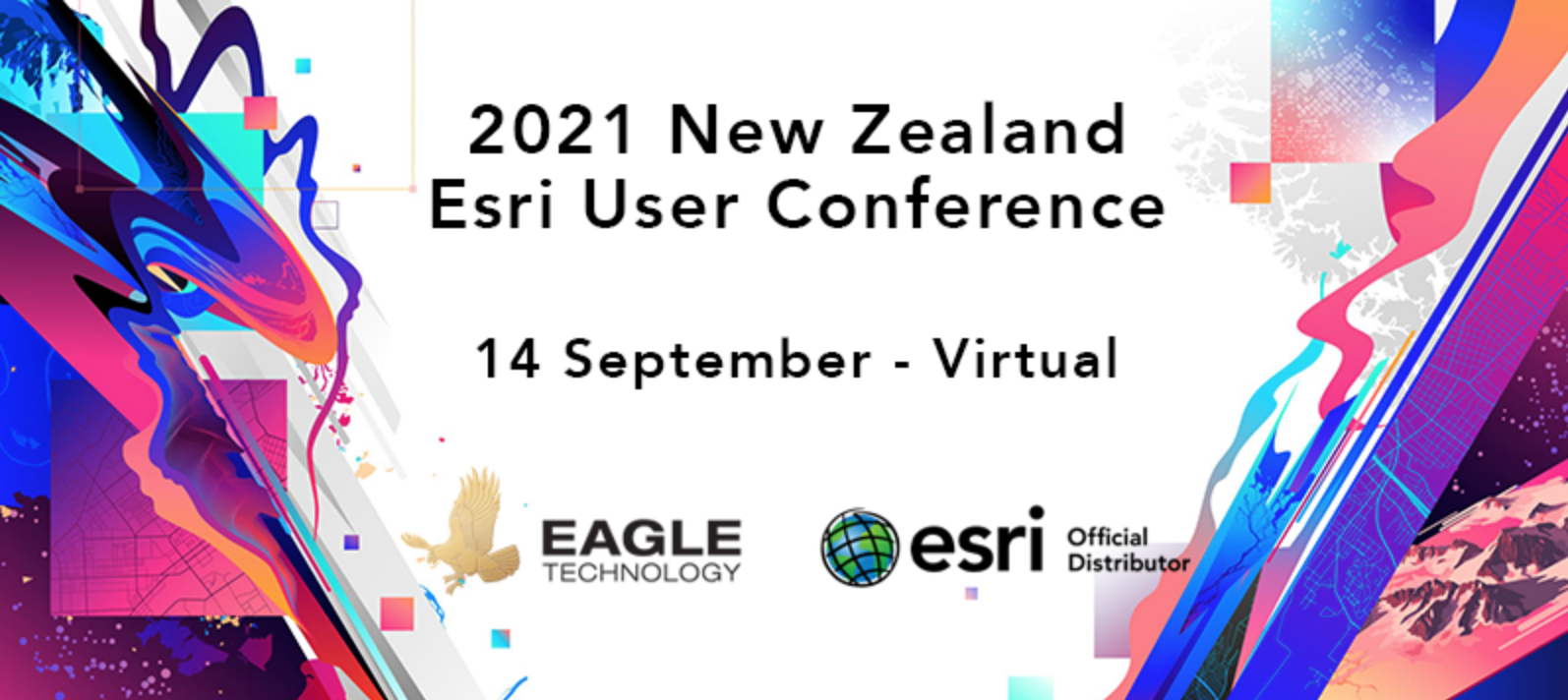 Aligned with the Esri International User Conference, the New Zealand Esri User Conference is for GIS professionals from diverse industries including government and local government, energy, forestry, utilities, conservation, agriculture, infrastructure, telecommunications, and more.
This year due to New Zealand's August/September lockdown, the decision was made to hold the conference on a virtual platform. All regional scheduled NZEUC events were moved to a single virtual platform, with the Plenary broadcasted live on September 14th, free to all registered participants.
In no particular order, here is a roundup of the top 15 takeaways from the NZEUC virtual event this year. This list is based on the top takeaways of 8 GBS staff that were in attandence throughout.
The Geographic Approach – https://www.esri.com/about/newsroom/arcwatch/a-time-to-act/
Improvement to the content for NZ in Living Atlas, make a move to vector base maps, stop using some old NZ base maps.
Blending in AGOL and Pro – https://doc.arcgis.com/en/arcgis-online/create-maps/use-blend-modes-mv.htm
Improvements to ArcGIS Field Maps (and using webhooks with Power Automate) and ArcGIS Survey 123 web builder updates.
ArcGIS Enterprise 10.9.1 coming November ish – last version to allow publishing from ArcMap. New map viewer in Portal (familiar if using AGOL). ArcGIS Enterprise on Kubernetes, Collaborations – Share content with collaboration groups, Create a distributed collaboration
ArcGIS 11 – 2022 – Look out for blogs and whitepapers to help with getting prepared
ArcGIS Pro 2.8 Data Engineering – Introducing Data Engineering in ArcGIS Pro, Data Engineering in ArcGIS Pro, What's new in ArcGIS Pro 2.8, Roadmap
ArcGIS Solutions and the ArcGIS Solutions App
ArcGIS Velocity – https://www.esri.com/en-us/arcgis/products/arcgis-velocity/overview
National Elevation Program – http://elevationaotearoa.co.nz
ArcGIS GeoBIM – linking ArcGIS & Autodesk Construction Cloud and BIM360 – https://www.esri.com/en-us/arcgis/products/arcgis-geobim/overview, Storymap – Introducing ArcGIS GeoBIM
3D realism improving, much easier to capture and model data (e.g. SiteScan for ArcGIS, LIDAR feature extraction, 3D Visualisation) – still early days for ubiquitous 3D though.
ArcGIS for Office, Teams, PowerBI – not new (well Teams is new), but useful. ArcGIS Maps and Microsoft Integration: Office, Power BI, and SharePoint
Here is a playlist for the NZEUC videos that are now available on YouTube.