Running a robust and efficient GIS requires expertise, resources, and consistent monitoring. At GBS, we understand the challenges organisations face in managing their GIS environments effectively. That's why we offer GIS Managed Services as part of our comprehensive GBS Support Programme (GSP).
Reduce Downtime and Proactively Address Issues:
With GBS as your outsourced GIS System Administrator, you can say goodbye to unexpected system downtime. Our team conducts proactive analyses of your GIS environment, identifying and addressing potential issues before they turn into problems. By taking a preventive approach, we ensure that your GIS system operates smoothly and continuously, minimising disruptions to your critical workflows.
Control Costs with a Fixed Monthly Fee: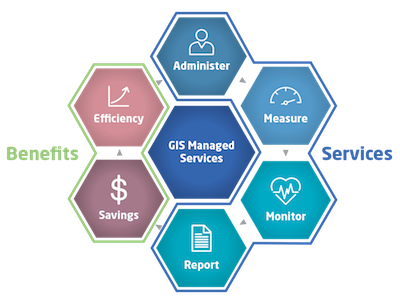 Managing the costs of maintaining a GIS system can be challenging, especially when unexpected issues arise. With GBS Managed Services, you gain cost predictability and control. We offer a fixed monthly fee, allowing you to budget effectively and eliminate the worry of unforeseen expenses. Our transparent pricing structure ensures that you can focus on optimising your GIS investments without financial surprises.
Increase Efficiency and Free Your GIS Staff:
By partnering with GBS for your Enterprise GIS System administration, you can optimise the productivity of your GIS staff. Our experienced team takes care of the day-to-day management and maintenance tasks, freeing your GIS professionals to focus on producing high-quality GIS products that drive your business forward. You no longer need to bear the burden of having rare and expensive Enterprise GIS Administration skills in-house. GBS has you covered.
Collect and Utilise Data for Informed Decision-Making:
Effective data collection and analysis are vital for informed decision-making. GBS provides you with weekly metrics and reports that offer valuable insights into your current GIS system usage. These reports help you understand patterns, identify areas for improvement, and plan for the future. With our Managed Services, you gain a clearer picture of your GIS system's performance and can make data-driven decisions to optimise your workflows and achieve your organisational goals.
Peace of Mind with a Well-Maintained System:
With GBS Managed Services, you can rest assured that your GIS system is in capable hands. Our team ensures that your system is well maintained for optimal performance, reliability, and security. We prioritise the wellbeing of your GIS environment, leveraging our expertise and industry best practices to keep your system running at its best. Focus on your core business objectives while entrusting the care of your GIS to GBS.
Partnering with GBS offers a range of benefits for organisations seeking efficient, cost-effective, and well-maintained GIS systems. By reducing downtime, controlling costs, increasing efficiency, collecting and utilising data, and providing peace of mind, GBS empowers you to unlock the full potential of your GIS investments.
To learn more about GBS Managed Services and how you can take advantage of this option to enhance your GIS operations, download our GIS Managed Services Brochure.  When you're ready, get in touch with the GBS team to discuss your requirements and embark on a journey towards optimised GIS management.