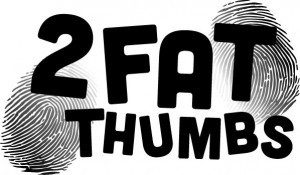 GBS is the first New Zealand Esri partner to list an application on the Esri Marketplace.  On Friday 19th December, we listed 2 Fat Thumbs.
2 Fat Thumbs is built for Windows 7 and 8 using the Esri Runtime .NET SDK. It is designed for in field data viewing, data editing and data collection on windows tablets. 2 Fat Thumbs takes its configuration from your WebMaps and as such can be used for any field based activity.
So don't wait for Collector on Windows – get 2 Fat Thumbs now!
Features:
Fully integrated with ArcGIS Online and Portal for ArcGIS – note that you must have an ArcGIS Online account or Portal for ArcGIS to use 2 Fat Thumbs.
On-line/off-line operation – take your data off-line into the field with you and easily sync back to ArcGIS Online when you are done.
Download (and re-use) base maps or provision devices with pre-built basemaps (.tpk files)
Off-line related tables/records – view, edit, create.
Field based data collection including attaching photos and files.
WebMap driven configuration.
Designed for use on windows tablets/laptops in the field – large buttons, easy to use – min screen resolution 1024 x 768.
A 30 day trial is available from the Esri Marketplace listing here >>
Check out the online technical help here >>
If you like more information about 2 Fat Thumbs, please contact GBS >>