GBS is proud to have received this prestigious Esri Partner award.  GBS received the award for a "ArcGIS Platform Complete Deployment" in relation to our work with Auckland Council.
Tony and Harley were pleased to be able to receive the award in person from Esri President Jack Dangermond at the recent Esri Partner Conference in Palm Springs.  This is a further endorsement and recognition of our commitment to Esri best practice.
We wish to recognise and thank our staff for the hard work they have put into this and other projects.  We also wish to recognise the effort of the team at Auckland Council who have put a huge effort into the Geospatial Future Mode of Operation (GFMO) project, which has won a series of other awards over the past 12 months.  The scale and complexity of this project was challenging to say the least and to receive this award is very satisfying for all involved.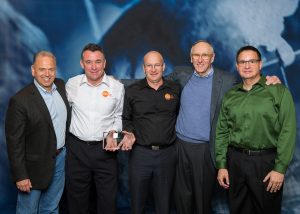 In the picture supplied, from left to right:
Dean Angelides – Director International Operations at Esri
Tony Elson – Director at GBS
Harley Prowse – Director at GBS
Jack Dangermond – President at Esri
Chris Cappelli – Director Global Sales and Business Development at Esri